Welcome to the TOCR Intranet Homepage!
APRIL BIRTHDAYS
HAPPY BIRTHDAY TO ... STEPHANIE MALLARDI-PALUMBO, Apr. 2; AMY MARKLIN, Apr. 6; ANTHONY DiMINNO, Apr. 9; KATHY VELISCHEK and PATRICK O'SULLIVAN, Apr. 10; BARBARA ELLIOTT, Apr. 11; JOHN DiCAIRANO, Apr. 12; SUSAN BROWNE, Apr. 16; DANIELLE BRENNAN, Apr. 18; REBECCA FOX and FARZANA KOUSAR, Apr. 20; PATRICIA FINNEGAN, Apr. 26; PATRICIA BLASZKO, Apr. 27; KAREN HOFFMAN, Apr. 28; and LAURIE KATSAPIS, Apr. 30. Remember to give each a big shout out ... HAPPY BIRTHDAY TO YOU!!!
New Agent Training Schedule - April 2014
9:30 am to 12:30 pm
Location: Administrative Office
300 G Lake Street
Ramsey, NJ 07446
Week 2
Date

Class Name

Description

Instructor

4/21*

Listing Presentations

Effective Listing Presentations

Madeline Rapp

Navigating Institute 2.0

4/22

GO ON INSPECTION

4/23

Building Your Business

Farming, Prospecting, Identifying Leads, Open Houses

Zachary Lisella

4/24

Listings

Taking a listing, listing checklist and procedures and assembling your folder

Madeline Rapp

4/25

GO ON INSPECTION
* This session may not end until 1:30.
Week 3
Date

Class Name

Description

Instructor

4/28

Contracts & Leases 1

Completing contracts and leases. Review of checklists and procedures

Lois Fitzpatrick

4/29

GO ON INSPECTION

4/30

NO CLASS

5/1

Wrap-up Session

Conclusion of contracts and leases. Demonstration of online fill able forms.

Madeline Rapp

5/2

GO ON INSPECTION
WELCOME TOM MENKEN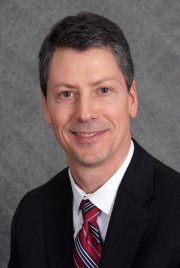 Terrie O' Connor, President of Terrie O'Connor Realtors, is pleased to announce that Tom Menken has joined the Upper Saddle River Group.
Tom graduated from Stony Brook University. He worked in the Financial Services industry for 26 years where he gained extensive experience in Mortgage Backed Securities, supporting trading desks and sales personnel.
Tom believes the key to his success in the financial sector has been his ability to 'ask the right question' and in active listening. "I have found that it is often difficult for people to express their needs and aspirations," he explains. "Asking open ended questions and paying attention to the details of the responses has enabled me to uncover the true desires of my clients and create solutions that help enable them to meet their goals." Tom looks forward to applying these skills and strategies to guide his real estate clients. "I believe my ability to relate to clients will help them clarify their goals and desires. This will enable us to work as a team to meet these goals."
Tom was raised in Babylon, NY, and has lived in Emerson for the past 18 years. He is married with two grown children. He contributes to the community by delivering meals for Pascack Valley Meals on Wheels and raising puppies for the Seeing Eye Foundation. He was active in the Boy Scouts and the Boys and Girls Club when his children were younger.
He can be reached at the office 201-327-7100 ext 160, cell 201-921-5343, email tmenken@tocr.com.
WELCOME BETSEY CAVAGNARO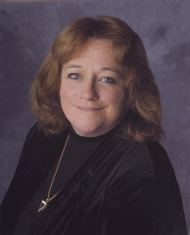 Betsey has 8 years experience in the real estate industry and is a recipient of the Inter-national Diamond Society Award. She earned a Bachelors degree in Business, with a major in IT. She holds her New Jersey Real Estate Broker's license and has Short Sale and Foreclosure Certification, along with Broker Price Opinion Certification.
Betsey is a full-time agent who knows her market. She is outgoing and works well with people. Her market knowledge and IT background afford her the expert ability to use the internet and social media to benefit her clients who are both looking to sell or purchase a home.
Betsey has worked with first time buyers, as well as helped many clients in the purchase and sale of luxury homes, condos, short sales, and relocations. "My business goal is to handle the sale of your current home or the purchase of your new home in a professional and timely manner". "I will put my knowledge of the current market and my attention to detail to work for you. My client's concerns are my concerns".
Betsey was raised on Long Island and has lived in Kinnelon for 31 years. She is married with four children and volunteers at her church. When her children were attending school, she was President of PRM HAS, a Founding member of KEA, and MAGS Girl Scouts leader for 13 years.
Betsey can be reached at the office at 973-838-0100 Ext. 259, on her cell at 201-317-6020 or email bcavagnaro@tocr.com.
WELCOME JEFF JACOBSEN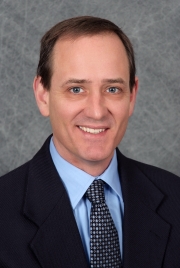 Terrie O' Connor, President of Terrie O'Connor Realtors, is pleased to announce that Jeff Jacobsen has joined the Upper Saddle River Group.
Jeff has a BS in Business and several CE certificates in landscape design and disciplines, including certification as a Landscape Lighting Installer. He has enjoyed a career in his family business, Jacobsen Landscape Contractors, Inc., located in Park Ridge. A majority of the company's landscape business takes place in Northern New Jersey, affording him a great familiarity with the region. He is also proud to consider that his family's company has even contributed to the beautification of the area.
Growing up in a family business has taught him to follow a doctrine of maintaining honesty, integrity, and loyalty to the customer. "I am always told that I am good with people," he explains. "I believe I understand how to connect with different types of people because I am genuinely interested in helping them achieve their goal." This enthusiasm will surely put his real estate clients at ease, as well as benefit the negotiating process of the sale or purchase of their home.
Jeff grew up just inside the New York border of Montvale and Chestnut Ridge. He is the third generation of his family to consider Park Ridge home. He currently resides in Monroe, NY with his wife and two young children. He helps maintain the Rotary garden in Woodcliff Lake, where his grandfather was a rotarian for 75 years.
Jeff can be reached at the office 201-327-7100 ext. 157. cell 201-280-2692, email jjacobsen@tocr.com.
WELCOME KRISTIN KARLSON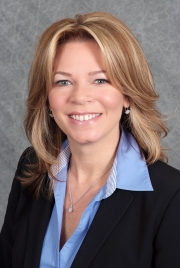 Terrie O' Connor, President of Terrie O'Connor Realtors, is pleased to announce that Kristin Karlson has joined the Upper Saddle River Group.
Kristin graduated from Immaculate Heart Academy and continued her education at Pace University where she earned a Bachelors degree in Accounting, with a minor in Computer Programing.
Kristin has over 20 years experience working for Fortune 100 Companies in the areas of Sales Operations and Finance. Her work experience affords her exceptional organizational skills, business acumen, and the ability to meet project deadlines in collaboration with others.
Kristin's passion for real estate began early on, having grown up with a mother in the real estate business and a father who was a builder. She looks forward to combining this interest with her business experience to help others. "My work experience, record of delivering results, and my passion for working with people will carry over into helping my clients buy or sell their homes," she explained.
Kristin was born and raised in Hillsdale and currently resides there with her husband. She is involved in fund raising efforts for the Juvenile Diabetes Foundation and the American Cancer Society.
Having grown up in the area, Kristin is very knowledgeable about Bergen County, with an expertise in the Pascack Valley Area and surrounding school systems.
Kristin and her sister, Kerry Sandt, will also be working as a team.
Kristin can be reached in the office 201-327-7100 ext. 158, cell 201-665-2870, email kkarlson@tocr.com
WELCOME KERRY SANDT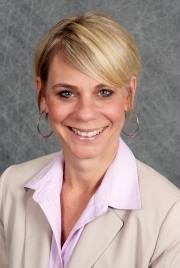 Terrie O' Connor, President of Terrie O'Connor Realtors, is pleased to announce that Kerry Sandt has joined the Upper Saddle River Group.
Kerry graduated from the University of Scranton with a Bachelors degree in Communications, and a minor in Business.
Kerry is a certified Licensed Mortgage Originator with 10 years experience in the mortgage industry. She currently holds her mortgage originator license in the sales division at Customized Mortgage Solutions in Old Tappan. Her extensive knowledge of the financial aspect of both selling and buying property will offer her real estate clients a great advantage in the process. "My unique dual licenses will allow my clients to have a full service experience," she explains. "I want my clients to feel very comfortable knowing they are dealing with someone who can guide them in all aspects of the real estate transaction."
Both Kerry and her husband, Ed, a teacher at Pascack Hills High School, are lifelong residents of Hillsdale. They have three daughters. Kerry is very involved in her community and volunteers as a class Mom at her daughters' school and as a religious education teacher. She and her husband have dedicated much of their time helping to raise money for the Juvenile Diabetes Foundation.
Having grown up in the area, Kerry is very knowledgeable about Bergen County and has great insight into the area schools. Her community involvement, mortgage experience, and overall interest in real estate afford her a unique perspective as an agent. "I grew up in a house with a Real-Estate Mom and a Builder Dad. Building homes and selling them were always a part of our dinner table conversation!"
Kerry and her sister, Kristin Karlson, will also be working as a team.
Kerry can be reached at the office 201-327-7100 ext. 154, cell 201-819-7015, email ksandt@tocr.com