Welcome to the TOCR Intranet Homepage!
New Agent Training - May/June 2015
9:30 am to 12:30 pm
Location: Administrative Office
300 G Lake Street
Ramsey, NJ 07446
Week 3
Date
Class Name
Description
Instructor
5/25
MEMORIAL DAY – NO CLASS
5/26
GO ON INSPECTION
5/27
Listing Presentation
How to develop a listing presentation, present marketing options (print and online), demonstrate LBX
Madeline Rapp
5/28
Taking a Listing
Review listing paperwork, assembling your folder, assigning your LBX to your listing, demo text rider - reinforce listing presentation - defensible file
Madeline Rapp
5/29
GO ON INSPECTION
Week 4
Date
Class Name
Description
Instructor
6/1
Enhancing Your Listing Presentation
How to conduct an open house - what to bring, procedures for 2 people hosting an open house. Identifying buyers wants/needs/options, previewing properties prior to showing
Chris Tausch
6/2
GO ON INSPECTION
6/3
Contracts
Filling out the contract, contract checklist & procedures, Negotiating with buyers and sellers
Lois Fitzpatrick
6/4
Rental Listing/Leases/Credit Reports
Review paperwork for processing a residential lease
Nickie Lisella
Introduction to Relocation
The relocation department and the processing of internet leads.
Susan Browne/Lisa Glattman
6/5
GO ON INSPECTION
Week 5
Date
Class Name
Description
Instructor
6/8
CMA – Part 2
Pricing/Consulting sellers on market values/Negotiating
Judy Pisani
6/9
GO ON INSPECTION
6/10
Wrap-up Session
Conclusion of contracts and leases. Demonstration of online fill able forms.
Madeline Rapp
6/11
On-Line Marketing – Part 2
Explain what company does for setting up initial profiles and discuss updating personal profiles on luxuryportfolio.com, realtor.com, Zillow, Trulia, Linkedin & Facebook. Requesting reviews by customers for the sites.
Matt O'Connor
6/12
GO ON INSPECTION
WELCOME JOSEPH & VERENA PIPARO
Terrie O'Connor,
President of Terrie O'Connor Realtors, is pleased to announce that Joseph and Verena Piparo have joined the company's Saddle River office. Together they make a strong real estate team, able to meet the needs of those buying, selling, renting or relocating.
Joseph and Verena are both graduates of Montclair State University. Joseph has a BA in teaching as well as a Master's degree in Administration and Supervision. He also has experience working with members of local planning and zoning boards. Verena, fluent in Spanish, holds a Bachelor of Arts in teaching and a Master's degree in education. Currently teaching in Special Education, she is active in her community and has traveled extensively.
As a life-long residents of Bergen County, they are well aware of the strong town services, stellar schools and attraction of living locally. "These town services and excellent schools provide the strong value of our local real estate markets. We also chose to raise our family here."
You may reach Joe and Verena at the Saddle River office at 201-934-4900
or, Joe may be reached at: jpiparo@tocr.com or cell at 201-463-6298
Verena may be reached at: vpiparo@tocr.com or cell at 201-835-4605
MAY BIRTHDAYS
HAPPY BIRTHDAY TO ... CATHERINE KASPRAK and KATHLEEN McELROY, May 2; LOIS FITZPATRICK, MARJORIE FIORI and TOM MENKEN, May 3; JUDY PISANI and ELLA GOYKHMAN, May 4; MONIKA MARTUCCI, May 5; ARTIE SHATTUCK, May 6; SHAN-SHAN YAM and MANDY BRINKLEY; May 8; MATTHEW O'CONNOR and MARIA TAESCHLER, May 10; JODI MONRO, May 14; MAUREEN POPPE, May 15; THERESA SAVELLI, May 16; ANN GUGLIELMELLI, May 18; ALISA DiGIROLAMO, LAURIE GERTZ and KATHY DIVAK, May 22; CHARLENE CHAIT, May 23; DIANA FRANKEL, May 24; LORI LOUGHNANE, May 25; ZENAIDA MERCADO, May 26; PAUL GIBLIN, May 27; ELIZABETH NEWELL, May 28; MARK DIVAK, May 30; PAT DRAPER and EMILY MUSCARA, May 31. Remember to give each a big shout out ... HAPPY BIRTHDAY TO YOU!
WELCOME GAYJONE CARROLL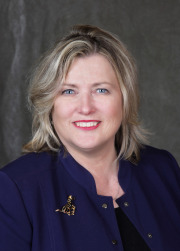 Terrie O'Connor, President of Terrie O'Connor Realtors, is pleased to announce that Gayjone Carroll has joined the Ramsey group of Terrie O'Connor Realtors.
Gayjone has been a full-time realtor serving Northern Bergen and Rockland counties since 1987. She has been a consistent member of the multi-million dollar real estate club since 1989 and was a part of the Ambassador Club and President's Club at her previous company.
Gayjone's success in the real estate business can be attributed to the repeated business and referrals from her many satisfied clients. In fact, Gayjone helped four generations of several families with their real estate needs. Her ability to listen, knowledge of the current inventory and willingness to go the extra mile for her clients are the keys to her success. The excellent reputation of Terrie O'Connor Realtors and the attention to detail that the firm gives to its clients were deciding factors that led to Gayjone to the company.
Gayjone has two adult children and one grandchild. She has lived in Mahwah for eleven years. Gayjone is a registered nurse and a graduate of the Englewood School of Nursing. She volunteers for the American Heart Association and American Cancer Society.
Gayjone Carroll is very pleased to be a part of Terrie O'Connor Realtors, Ramsey. She can be reached at (201) 934-0600, x23, or email gcarroll@tocr.com.
WELCOME MANDY BRINKLEY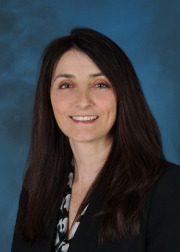 Terrie O' Connor, President of Terrie O'Connor Realtors, is pleased to announce that Mandy Brinkley has joined the Wyckoff Group.
Mandy lived and received her higher education in the UK. She then became a project co-coordinator at a UK Financial Information Service Company where she excelled with strong organizational skills working on complex projects.
Mandy has personal experience moving between countries and states, having lived in the UK, Bermuda, CT, and NJ.
"I know first hand the issues that can arise when moving," she explains. "I look forward to helping my clients find the best ways to deal with these issues."
Through these moves and several home construction and renovation projects, Mandy has also built a valuable network of trusted contractors and contacts.
Mandy is married with two children and has resided in Franklin Lakes for the last 10 years. She volunteers at a children's and women's shelter in Paterson, was also co-coordinator at the local travel soccer club. Also serves on the executive board of her sons PTA school board.
Mandy can be reached at: Office: 201-891-0100 Cell 201-675-7502 Email: mbrinkley@tocr.com.
WELCOME NORA RITTER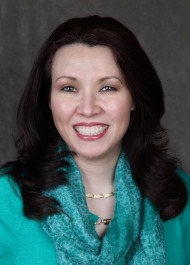 Terrie O' Connor, President of Terrie O'Connor Realtors, is pleased to announce that Nora Ritter has joined the Wyckoff Group.
Nora earned a BFA from the Fashion Institute of Technology specializing in fashion design. For three and a half years she worked as a bridal sales consultant where she gained valuable sales experience and honed her customer relation skills.
While working in the customer service and account management department at United Health Group, Nora was often complemented on her responsive skills and strong attention to detail.
Nora is co-owner and decorator of her own design and staging company, Ritmann Designs. She works with other realtors to stage properties and get them ready for the market.
"I see potential in homes that others do not due to my design and decorating background," she explains. "I am familiar with techniques that help showcase a home in the best possible light."
Nora is a parishioner at St. Anthony's Church in Hawthorne and donates to various schools and local organizations through her Ritmann Designs company. She grew up in Brooklyn and Bogota and now lives in Hawthorne.
Nora can be reached at: Office 201-891-0100 ext 247, cell 201-723-9232, noraritter@tocr.com.
WELCOME THERESA RANAGAN
T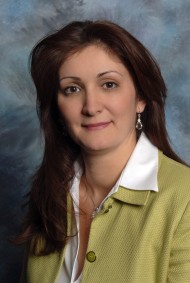 errie O'Connor, president of Terrie O'Connor Realtors, is pleased to announce that Theresa Ranagan has joined the Wyckoff office.
Theresa has 25 years experience in sales and marketing with a proven track record of accomplishments. Her marketing background affords her many advantages when working with a seller. Her sales background gives her an edge when negotiating for both buyers and seller. She's confident that this experience along with her in-depth knowledge of real estate and aggressive marketing plan, will help lead her clients through a stress free experience.
Theresa is often complemented for her dedication, hard work and honesty. "My philosophy is: always treat people as you would like to be treated, with respect and honesty," she explains. "My clients receive customer service far beyond their expectation because their satisfaction equals my success."
Theresa grew up in Fairview and has lived in Oakland for the last 22 years. She is married with two children. She volunteers her time at St. Mary's Church where she teaches children Religious Education.
Theresa can be reached in the office at: 201-891-0100 ext 216, by cell 201-248-0082 and email tranagan@tocr.com
WELCOME STEVEN KLENK
T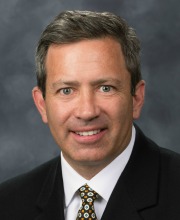 errie O'Connor, President of Terrie O'Connor Realtors, is pleased to announce that Steven Klenk has joined the firm's Saddle River office. Steven joins his wife Blanca as a team with experience in the Saddle River market.
Steven has been passionate about real estate his entire adult life. He brings 25 years of home-building experience to Terrie O'Connor Realtors. His projects have ranged from multi-family town homes to luxury custom homes. His vast custom experience and attention to detail has resulted in the construction of award-winning residences throughout New Jersey. Of eighty-four homes he built in Saddle River, four have been bestowed the Best Custom Home award by the New Jersey Builder's Association. He was named 2014 Best Project Manager of the Year by the Metropolitan Builders & Contractors Association for his development of Saddle River Grand.
Steven is a licensed New Jersey professional engineer with a civil engineering degree from Lehigh University.
Steven is driven to client satisfaction and attributes his real estate success to hard work, loyalty and effective communication.
A lifelong Bergen County resident, Steven lives in Ramsey with his wife and three children.
You can reach Steven at the Saddle River office at (201) 934-9400 or on his cell at (201) 785-1700. You can also contact him via e-mail at sklenk@tocr.com.