Welcome to the TOCR Intranet Homepage!
Ninja Installation
The Ninja philosophy is really catching on throughout TOCR...we are now approximately 100 strong!
Many have asked if we might be running another installation in the near future...some who have heard how great the program is and some who went through the program and would like to take it again!
We are trying to gauge the interest level to determine when we might bring the program back. If you would consider taking the Ninja Installation if we held one here in Ramsey, please click here to enter your interest!
June 2017 Question of the Month
The June 2017 Question of the Month in the Client Newsletter ask the question:
"Why did pirates wear earrings?"
The answer is that they believed earrings would improve their eyesight!
Skills Workshop - June 27
Recent skills workshops on "Working with Buyers" and "Working with Sellers" led by Shane Walters and Madeline Rapp have been very well received.
Don't miss their latest workshop - a listing presentation dialogue session. Hear how the experts do it, then role play with a friend and get feedback from the masters! You are welcome to come alone...but consider bringing a friend you feel comfortable practicing with.
Register here for this lively session scheduled for Tuesday, June 27 at 5:30 p.m.
June Birthdays
HAPPY BIRTHDAY TO....
MICHELE GRIMSTAD and ELLEN FARLEY (June 1); DOREEN SPINELLA (June 2); BRITTANY DONNELLAN and YOUNGIN PARK (June 3); KAREN FOX and DIANE COOKSON (June 4); GAY GUMBERICH (June 6); PATRICK O'HAGAN (June 8); KAREN FUSARO and DEBRA ANN MCDERMOTT (June 9); LUCIA JOB and JENNIFER FEELEY (June 10); JANICE HERNANDEZ and ELIZABETH VANDER PLOEG (June 13); AIMEE FISCHLER COHEN (June 14); BETTY WICKERT (June 15); ALISHA CORNETT (June 17); SUSAN CURRAN and JANET MANISCALCO (June 18); PAULA ROYAK and EVE WINTER (June 20); CATHERINE WARNET and CAROLYN BAUM (June 21); LISA ANISKO ISAAC (June 22); MARY ELLEN WETZEL (June 23); and STEPHEN INGRAM (June 27).
SPREAD THAT SUMMER JOY FOR ALL OUR JUNE SUNSHINES!!
WELCOME ALEX D'AMICO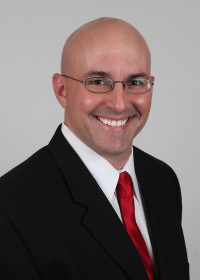 Terrie O'Connor, President of Terrie O'Connor Realtors, is pleased to announce that Alexander "Alex" D'Amico has joined the Ramsey group as a Sales Associate.
Before joining the Terrie O'Connor team, Alex spent 20 years in corporate accounting and finance. He held various executive level roles with responsibilities that included controllership functions, budgeting, financial planning, working on mergers and acquisitions, contract negotiations, strategic initiatives, deal analysis and commercial lease negotiations.
Alex brings his keen business acumen, negotiation and communication skills to his real estate career. "I want to see my clients succeed," says Alex. "I'm organized, responsive and detail-oriented. My career has centered around financial transactions, and I'm excited to leverage this expertise to assist my clients." Alex is an expert at closing deals, which is what every home buyer and seller need to have a successful real estate experience.
Alex graduated Summa Cum Laude from Rutgers University with a B.S. in Accounting. He is a Certified Public Accountant. Alex lives in Mahwah with his wife, Tara, and young son, Brandon.
Alex can be reached at the Terrie O'Connor office in Ramsey at 201-934-0600 (ext. 71) or on his cell at 201-463-5582. You can also email him adamico@tocr.com.
Boston Logic Training - New Platform!
Boston Logic is releasing their new Skyline platform for the back end of their site. You will enjoy how much easier it is to navigate, its speed and some new functionality.
We are holding TOCR specific webinars to provide you with all you need to use Boston Logic - whether you have used it in the past or not! Plan to attend one of the following sessions:
June 13, 4-5 p.m.: Session held in Upper Saddle River and in Ridgewood offices
June 14, 4-5 p.m.: Session held in Wyckoff, Ramsey and Saddle River offices
June 20, 1-2 p.m.: Session held in Kinnelon and Allendale offices
June 22, 1-2 p.m.: Session held in Franklin Lakes office
Luxury Portfolio Webinars
Now, Luxury Portfolio is offering topic -specific webinars in addition to their general program overview. Register for this month's program through our development calendar:
Co-Op Print Ad Program
Wed., June 21 4 p.m.

LP Review for Agents
Wed., July 12 4 p.m.

Opportunities for Additional Exposure with LP
Wed., July 26 4 p.m.
May 2017 Question Of The Month
The May 2017 Question of the Month that is part of our client newsletter asks the question "From what language is the term 'mortgage' meaning dead pledge translated from?" The answer is FRENCH. (and yes the correct translation is DEAD Pledge - that's not a typo!)
Drone Photography
TOCR is pleased to offer exterior drone photography at your request. On properties priced above $1.5M, the company will absorb the cost of the photography. If your property is listed below $1.5M, you can get drone photography by participating in the cost. The agent side of the fee is set at $100. To order drone photography, simply place your order through our company store off our intranet site.