Welcome to the TOCR Intranet Homepage!
New Agent Training - March/April 2015
9:30 am to 12:30 pm
Location: Administrative Office
300 G Lake Street
Ramsey, NJ 07446
Week 3
Date
Class Name
Description
Instructor
3/30
Listing Presentation
How to develop a listing presentation, present marketing options (print and online), demonstrate LBX
Madeline Rapp
3/31
GO ON INSPECTION
4/1

Taking a Listing

Review listing paperwork, assembling your folder, assigning your LBX to your listing, demo text rider - reinforce listing presentation - defensible file
Madeline Rapp
4/2
Enhancing Your Listing Presentation
Using smartphones, tablets and laptops to work more efficiently and to enhance your presentations. Using YouTube videos in presentations and demonstration of QR Codes and Mobile CardCast.
Chris Tausch
4/3
GO ON INSPECTION
Week 4
Date
Class Name
Description
Instructor
4/6
Contracts
Filling out the contract, contract checklist & procedures, Negotiating with buyers and sellers
Lois Fitzpatrick
4/7
GO ON INSPECTION
4/8

Rental Listing/Leases/Credit Reports

Review paperwork for processing a residential lease
Nickie Lisella

Introduction to Relocation

The relocation department and the processing of internet leads.
Susan Browne/Lisa Glattman
4/9
CMA – Part 2
Pricing/Consulting sellers on market values/Negotiating
Judy Pisani
4/10
GO ON INSPECTION
Week 5
Date
Class Name
Description
Instructor
4/13
Wrap-up Session
Conclusion of contracts and leases. Demonstration of online fill able forms.
Madeline Rapp
4/14
GO ON INSPECTION
4/15

On-Line Marketing – Part 2

Explain what company does for setting up initial profiles and discuss updating personal profiles on luxuryportfolio.com, realtor.com, Zillow, Trulia, Linkedin & Facebook. Requesting reviews by customers for the sites.
Matt O'Connor
WELCOME LINDA SACCOMANNO
Ter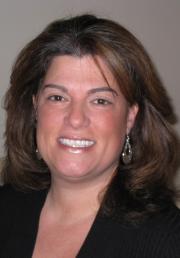 rie O'Connor, President of Terrie O'Connor Realtors, is pleased to have lifelong Kinnelon resident, Linda Saccomanno, as part of the Kinnelon office.
Linda is a 27-year veteran of the real estate business. She began her real estate career in 1988 and was a Top Producer at her previous company. You might say that a love of real estate is in Linda's blood. Linda's passion for real estate began to develop while growing up with a father who was a builder for over 50 years. Linda's brother is also a builder, specializing in new construction, remodeling and rehab design.
Linda has lived in Kinnelon for over 45 years and is extremely knowledgeable about the town and the Northern Corridor area. In her spare time, Linda enjoys cheering on her daughter's traveling basketball and softball teams.
Linda's success in the real estate business can be attributed to her passion, loyalty, trustworthiness and patience. She looks forward to continuing to share her knowledge of Kinnelon and the surrounding towns with her clients at Terrie O'Connor Realtors.
Linda Saccomanno can be reached at Terrie O'Connor Realtors, Kinnelon at (973) 838-0100, Ext. 267, or by cell at (973) 714-1200 or email lsaccomanno@tocr.com.
YPC "MARCH MADNESS" BRACKET CHALLENGE
MARCH BIRTHDAYS
HAPPY BIRTHDAY TO ... RICHARD DAUL, Mar. 1; DAPHNE CHOU and MAUREEN NUGENT, Mar. 3; MARY ANN CAREY, Mar. 5; MARIANNE ZARYCHTA, Mar. 6; BARBARA PAGELLA and PAM BONAN, Mar. 7; VICTORIA BALZANO and BLANCA KLENK, Mar. 8; SARAH DRENNAN, Mar. 9; KEVIN BENDEL, CARLA CARFORA and DOTTIE PULEO, Mar. 12; MATTHEW MILETTI-MOORE and MICHELLE WING, Mar. 14; TAMMY ROBERTS, Mar. 15; ROSEANN VADALA and DEBORAH TERHUNE, Mar. 16; HUGH McGRINDER, Mar. 17; DARLENE FELICONIO, Mar. 18; VICTORIA GURUNIAN and KATY O'CONNOR SMIECHOWSKI, Mar. 20; CAROLINE vonGLAHN, Mar. 21; LAURIE O'CONNOR and ROBERT FUNABASHI, Mar. 22; VELA COKLESKI, Mar. 24; STEVEN SCHIAVELLO, Mar. 28; MAUREEN GALLAGHER and ELLEN KIMMERLE, Mar. 30; and ROBERT TENNY, Mar. 31. Remember to give each a big shout out ... HAPPY BIRTHDAY TO YOU!
WELCOME PAULA ALONSO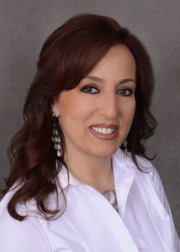 Terrie O'Connor, President of Terrie O'Connor Realtors, is pleased to announce that Paula Alonso has joined the Ramsey group of Terrie O'Connor Realtors.
Paula earned her real state license from the Kovats Real Estate and Insurance School in 2014. She is also a licensed NJ title insurance producer with Insight Title Services, LLC of Lyndhurst, NJ. Paula has over 28 years of legal experience, much of which was in the field of real estate. Paula is also a real estate investor, and has bought many properties to rehabilitate and sell. As a result, Paula is extremely knowledgeable about all aspects of the real estate and construction process. Her background is a tremendous asset to her clients.
Paula has two adult children. She has been a resident of Mahwah for 13 years, and is a graduate of North Bergen High School. Paula is extremely excited to be able to finally pursue passion for real estate while helping others. She is committed to ensuring that service to her clients is smooth and pleasant and to create a long term and continued relationship with her clients for years to come.
Paula Alonso looks forward to becoming a part of the Terrie O'Connor Realtors team. She can be reached at Terrie O'Connor Realtors, Ramsey at (201) 934-0600, x 30, or by email at palonso@tocr.com.
WELCOME MARSHA DEMAREST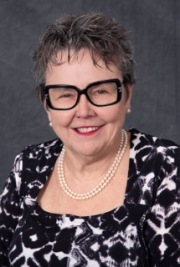 Terrie O' Connor, President of Terrie O'Connor Realtors, is pleased to announce that Marsha Demarest has joined the Upper Saddle River Group.
Marsha attended Drew University and has been serving the Pascack Valley area for over 40 years as one of the owners of Demarest Farms, a local favorite. She has enjoyed business ownership and has been very involved in the customer experience.
"I am a people oriented marketer," she explains. "Having been in a family service business my whole life has taught me the importance of dynamic service. Meeting the client's needs is my priority." She looks forward to applying these same skills in her role as a real estate agent.
Marsha has also lived in the Pascack Valley area since childhood and has a great knowledge of the area. She was raised in Park Ridge and now resides in Hillsdale. She has one son and two grandchildren.
"I interact with so many wonderful people from our community every day and they have become like family to me," she said. "It will be an honor and joy to help people market their homes and find the perfect fit."
Marsha has spent a great deal of her free time giving back to her community as well. She has served on the PTA executive board and on the Board of Trustees of the Hillsdale Library, where she also taught ESL. She was a Cub Scout leader, Treasurer of The Saturday Experience, co-chair of the Relay For Life of Pascack Valley, a member of the Eastern Star, and a volunteer for Meals on Wheels.
Marsha can be reached at the office: 201-327-7100, cell 201-870-2361, mdemarest@tocr.com.
WELCOME DALIA YOMTOBIAN!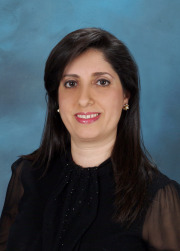 Terrie O'Connor, President of Terrie O'Connor Realtors, is pleased to announce that Dalia Yomtobian has joined the Ridgewood group of Terrie O'Connor Realtors.
Dalia has been a Bergen County resident since 1994. She has been happily married for 20 years and has four children. She is an enthusiastic member of the community and enjoys decorating and remodeling. Moreover, Dalia holds a bachelor's degree in the arts and sciences. As a result, Dalia epitomizes integrity, energy, and hard work into every detail of a real estate transaction.
As a buyer, Dalia knows what qualities are most important in a home. Six years ago Dalia also built her own home. She is very experienced with construction and remodeling. Dalia has also served as a landlord and has done a lot of home decorating and staging. She believes strongly that it is not only her duty to represent her clients to the best of her ability but also to assist them through out every step of the process. Dalia believes that the path to success is honesty and integrity in providing excellent service to buyers and sellers. "To be successful in real estate, you need to put your clients' best interests first."
Dalia Yomtobian looks forward to putting her talents to work for Terrie O'Connor Realtors, Ridgewood. She may be reached at 201-445-4554 or on her cell phone at 201-926-6616.
WELCOME EVE WINTER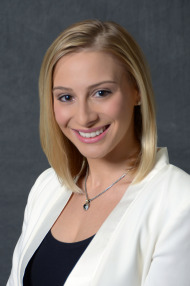 Terrie O' Connor, President of Terrie O' Connor Realtors, is pleased to announce that Eve Winter has joined the Upper Saddle River group.
Eve graduated magna cum laude from Ramapo College where she majored in Political Science and was a member of Golden Key International Honor Society.
Her previous work experience with title insurance provides her with in-depth knowledge of the buying and selling process. This understanding will benefit her real estate clients.
Eve is extremely hard working, efficient and detail oriented. "I do not let things slip between the cracks. I dedicate myself to serving my clients and it is paramount that their questions are answered quickly and to their satisfaction," she explains.
"There is nothing better than seeing new homeowners at the closing table receive the keys to their dream home. Knowing I will be a part of this experience is the best feeling in the world."
Eve was raised in Upper Nyack, New York, and currently resides in Ramsey.
She can be reached at the office 201-327-7100 ext 172, by cell 845-300-9165, or email ewinter@tocr.com.
WELCOME KRISTINE KEHOE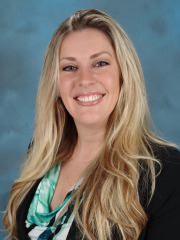 Terrie O'Connor, President of Terrie O'Connor Realtors, is pleased to announce that Kristine Kehoe has joined the Ramsey group of Terrie O'Connor Realtors.
Kristine is originally from Bloomfield, NJ. She spent most of her early life in Florida. Kristine finished high school a year early with an advanced course of study and then went on to graduate from The Corrections Academy in St. Petersburg, FL. While working full time as a civilian in the Pinellas County Sheriff's Office, Kristine earned a degree in Business Management from St. Petersburg College and became a Corrections Officer. For eight years, Kristine worked tirelessly, earning commendations for initiative, enthusiasm, tenacity, dependability and professionalism, qualities that have contributed to her success in all endeavors.
Kristine relocated back to Bergen County in 2009 and has served in various positions in the restaurant industry. She currently resides in North Haledon with her husband, Sean Kehoe. She has most recently served as a multi-unit franchise manager of Red Mango, where her duties include marketing and advertising, hiring and supervision of staff, purchasing, inventory, and training to name a few. Kristine's past success and passion for real estate led her to pursue a career with Terrie O'Connor Realtors.
Kristine knows how important finding the right home is. Her dedication and tireless work ethic are the key to making her clients' dreams come true.
Kristine Kehoe can be reached at Terrie O'Connor Realtors, Ramsey at 201-934-0600, Ext. 12, or email kkehoe@tocr.com.